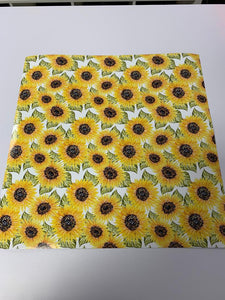 Permanent Adhesive Vinyl is excellent for crafting, long term graphics, decals, lettering, signs, and most any application requiring durability and longevity. This vinyl comes in a Glossy finish for all colors and is rated up to 5-6 years durability. This vinyl will stick to most any any solid surface, especially hard, shiny surfaces such as glass. 
Note: Surfaces with textures or coatings may not be designed for adhesive films to adhesive films to adhere or cure properly. Using a firm rubber ball to rub the vinyl onto the surface can often help with applying.
Applications: Indoor and outdoor use for decals on solid surfaces. 
Thickness: 3 mil
Durability: 5-6 years
Firm Type: Calendered 
Released Liner: Silicone coated paper stronger hold for better weeding experience. 
Adhesive: Clear acrylic pressure sensitive permanent adhesive 
Print Compatibility: Latex, Solvent, Eco-Solvent Printers (recommended white gloss for printing)
Shelf Life: 2 Years under listed storage conditions.
Storage: Ideal storage conditions are 70° F / 50% Humidity. Long term storage outside of those conditions may reduce shelf life.